What Happens To Mortgages During War?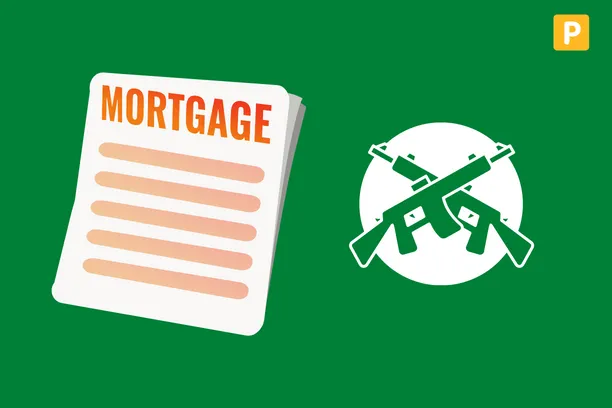 No one likes to think about the possibility of war, but it's a very real possibility that could have a major impact on our economy. One of the most important things to consider is what happens to mortgages during the war. While we hope that any future conflict will be resolved quickly and without major damage, it's important to be prepared for the worst. In this blog post, we'll explore what happens to mortgages during the war and how you can protect your investment.
How mortgages work
Mortgages are debts that people take out to buy property. The debt is secured by the property, meaning that if the borrower defaults on the loan, the lender can foreclose on the property and sell it to recoup its losses.
During wartime, mortgage lenders may be reluctant to lend money because of the increased risk of defaults. This can lead to higher interest rates and stricter lending requirements. Additionally, borrowers may have difficulty making their mortgage payments if they are called into active duty or lose their job because of the war.
If you're considering taking out a mortgage during wartime, make sure you understand all of the risks involved. You may want to consider alternative financing options such as a home equity loan or a personal loan.
What happens to mortgages during war
The impact of war on mortgages is both direct and indirect. The most obvious way that war can affect mortgages is through interest rates. When the country is at war, the Government may raise interest rates to help pay for the increased costs associated with the conflict. This can make it more difficult for people to afford their monthly mortgage payments and may lead to an increase in default and foreclosure rates.
In addition to increasing interest rates, war can also have a direct impact on employment levels. If there is a decrease in jobs due to the conflict, this can again make it difficult for people to keep up with their mortgage payments. Additionally, if property values decline in areas affected by the fighting, this can also lead to an increase in defaults and foreclosures.
While war can have a direct impact on mortgages, it can also indirectly affect the housing market by creating uncertainty and fear among borrowers and lenders alike. This can lead to a decrease in demand for new loans and may make lenders less likely to extend credit to potential borrowers. In turn, this can lead to higher interest rates and stricter lending standards, making it even more difficult for people to obtain a mortgage.
The different types of wars and their effects on mortgages
There are different types of wars that can affect mortgages. Here are a few examples:
Each war has different effects on mortgages. For example, the Civil War resulted in many foreclosures because people could not make their mortgage payments. The Vietnam War did not have as many foreclosures because the government provided programs to help people keep their homes.
The current war in Iraq has not had a large effect on mortgages because most people who have served in the military have been able to keep their homes. However, there have been some reports of problems with adjustable-rate mortgages and subprime loans.
Also Read: Can you mortgage an auction property?
How to protect your mortgage during wartime
When the United States enters a war, the economy usually slows down. This can lead to job loss and less money coming in, which can make it difficult to keep up with your mortgage payments. Here are a few tips for protecting your mortgage during wartime:
Communicate with your lender. If you're having trouble making payments, reach out to your lender and explain the situation. They may be able to offer some type of assistance, such as a payment plan or deferment.
Get help from a financial advisor. A financial advisor can help you create a budget and figure out ways to cut costs so that you can free up more money to put toward your mortgage payments.
Consider refinancing. If interest rates have dropped since you originally got your mortgage, refinancing could lower your monthly payments and make it easier to keep up with them during tough economic times.
Make extra payments when possible. If you get a bonus at work or some extra money from another source, put it towards your mortgage instead of spending it on other things. This will help you pay off the loan faster and reduce the amount of interest you pay over time.
Keep up with your insurance coverage. If something happens and you can't make your mortgage payments, having adequate insurance coverage could help protect your home from foreclosure.
Conclusion
While the effects of war on mortgages can be devastating, there are steps that can be taken to minimize the damage. First and foremost, it is important to stay informed and up-to-date on all developments related to the conflict. This will help you make better decisions about your mortgage and avoid being caught off guard by changes in the market. Secondly, consider working with a financial advisor who specializes in navigating wartime economies – they will be able to offer invaluable guidance as you navigate these uncharted waters.
what happens to mortgages during war,what happens to mortgages during war,what happens to mortgages during war,what happens to mortgages during war,what happens to mortgages during war,what happens to mortgages during war,what happens to mortgages during war,
what happens to mortgages during war,what happens to mortgages during war,what happens to mortgages during war,what happens to mortgages during war,what happens to mortgages during war,what happens to mortgages during war,what happens to mortgages during war,
what happens to mortgages during war,what happens to mortgages during war,what happens to mortgages during war,what happens to mortgages during war,what happens to mortgages during war,what happens to mortgages during war,what happens to mortgages during war,