How To Delete Depop Account? The Easiest Way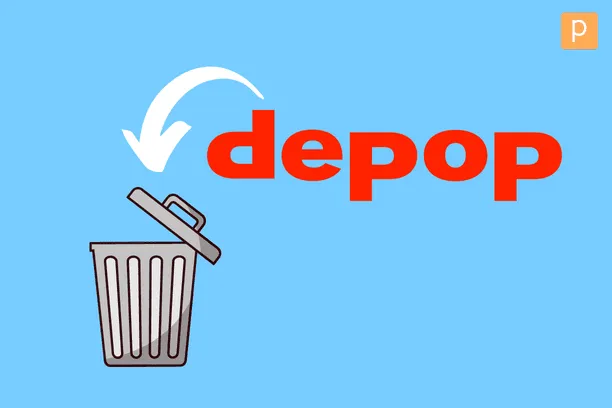 Depop is a very popular platform and millions of users across the globe use it but, sometimes it can be difficult for people to find the correct option they are looking for. Don't worry we got you, in today's article we will explore the way by which you can delete depop account in a very quick and easy manner so without wasting more time let's jump right into the article.
Table of Contents
How To Delete Depop Account (For IOS)
So if you are using any ios device whether it's an iPhone 6 or an iPhone 14 it does not matter, just follow the below steps:
Note: The method will be the same for all devices.
Step 1: Open your depop account.
Step 2: After opening the app head towards the profile section.
Step 3: In the Profile section you will see the settings tab open it.
Step 4: After opening the setting tab you will then see a section "Delete Account" Click on it.
Step 5: After clicking, depop will ask you the reason for your account deletion just like the below screen: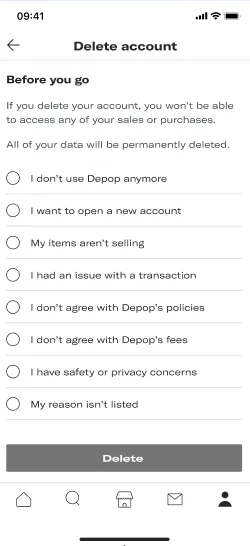 Step 6: Choose the appropriate reason and click on the Delete button. That's it!
How to Delete a Depop Account (For Web and Andriod)
So if you are using the Depop app on an Android or accessing it through the web, there are two methods by which you can permanently delete your depop account. We will discuss both of them in an easy-to-understand manner.
Method 1: Submitting a request.
The first method is quite simple you have to send a request to depop for the account deletion.
Step 1: Visit the depop support page by clicking on this link–> Submit a request
Step 2: As soon as the page loads you will see the below screen: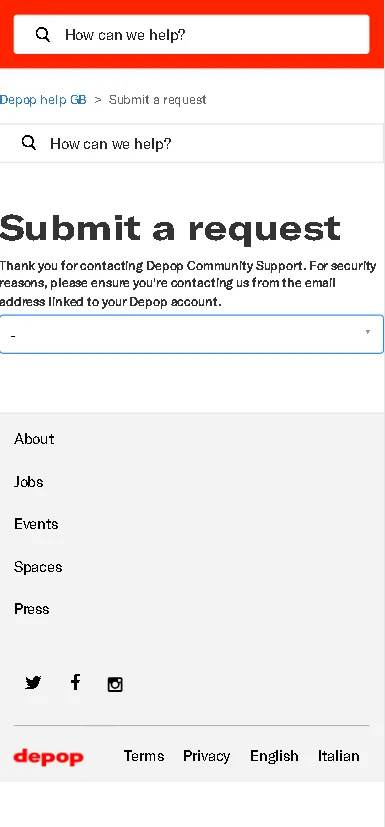 Step 3: Click on the tab below Submit a request and select "Click here to request an account deletion".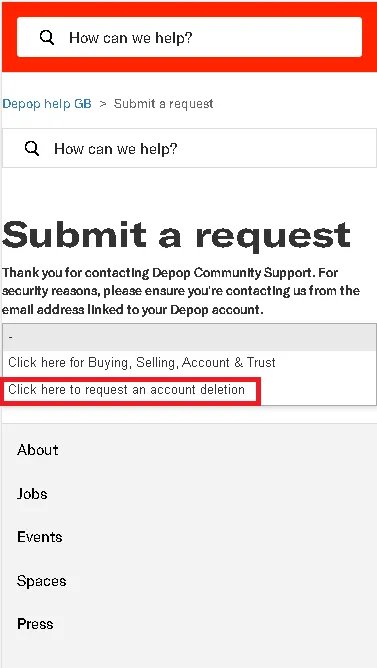 Step 4: After clicking on the tab your page will then show you some fields which you have to fill in: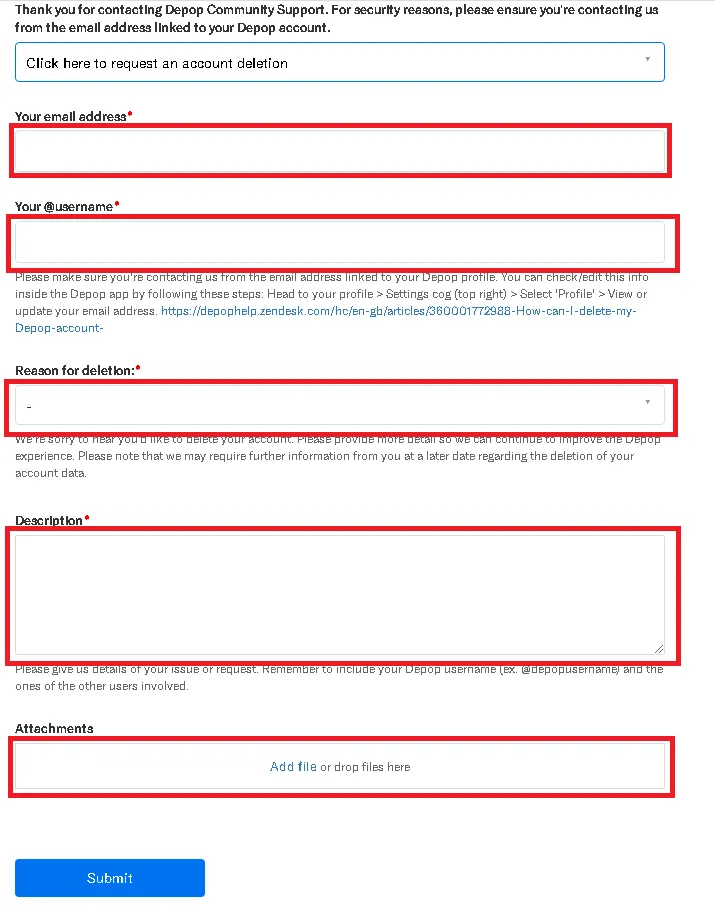 Step 5: 4 out of 5 fields are compulsory to fill.
In the first field, you have to fill in your email address "[email protected]". Make sure to use the associated email address if you don't know the email address of your depop account head towards "profile > Settings cog (top right) > Select 'Profile' > View or update your email address".
In the second field, you have to fill in your depop username. (Make sure to use the correct username)
In the third field, you have to select your desired reason for account deletion. Don't worry you can select any reason that resembles your issue.
In the fourth field, you have to give a small description of the issue you are facing for example:
"Hello I am [your username]" and I am facing this issue [explain your issue] for the past several weeks that is why now I have decided that I will delete my depop account permanently".
The fifth field is not compulsory but you can attach some screenshots of the issues which lead you to request the deletion. It is not necessary you can skip this if you want.
Step 6: Click on the Submit button to request the deletion.
Method 2: Deletion through Email
Method 2 is also very simple & easy, you just have to drop an email to this address "[email protected] ".
Example: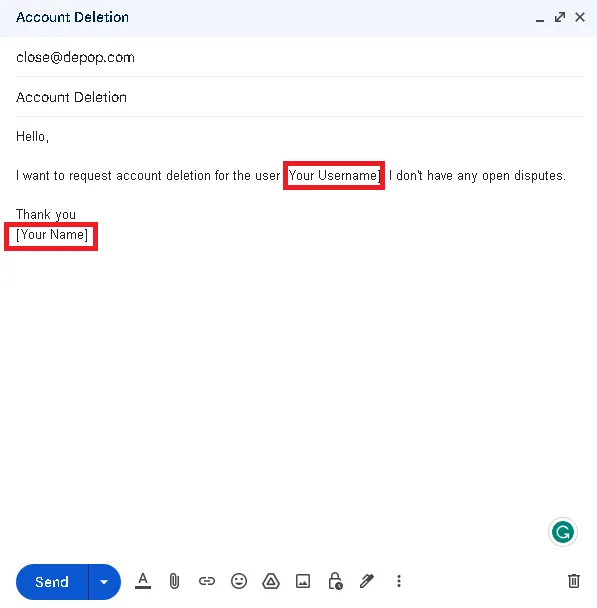 NOTE: Make sure to clear all open disputes before closing the account, According to Depop, you are liable for any refund or outstanding sales. If you try to escape, you will surely face trouble in the future while opening new accounts. Also, Remember that If your account is deleted permanently then it is not reversible, You cannot reactivate the account again in the future so be double-sure before deleting your account.
If you still face any other issues or problems related to your depop account you can submit a request for that as well by clicking on this link–>Submit a request
So, if you are sick of clothes and want some interesting in your life you can check our article: Z Library: Access Thousands of Free eBooks Today
How To Delete Your Depop Account (Video)
How Long Does It Take to Delete A Depop Account?
It usually takes around 2 weeks for a depop account to be permanently deleted. After the user requests the deletion, depop sends a confirmation mail to the user As soon as the email is confirmed, the account becomes inactive and after 2 weeks the account is permanently deleted.
If somehow you have deleted your account and you want to recover it, you can recover your account within the period of 2 weeks, after the period is over no one can reactivate your account.
Final Thoughts: How to Delete Depop Account
So there you have it from our side, We have provided you all three easiest ways by which you can delete depop account, whether you are accessing the web or the app version, We have a solution for every platform and if you have any suggestions or queries related to the topic depop or "how to delete depop account", Please us know your thoughts in the comment section.
FAQ
How To Deactivate Depop?
If you just want to deactivate your depop account for a while you can easily do it by submitting a request for account deletion on the official website of the depop or by clicking on this link–>Submit a Request. Remember if you do not want to delete your account permanently you must reactivate it within 2 weeks after you confirm the account deletion request.
Why can't I delete my Depop account?
Please remember that if your account has some open disputes you will not be able to delete your account, so make sure to clear all the pending disputes, refunds, and outstanding sales before deleting your account.
Can you deactivate and reactivate Depop?
YES, you can temporarily deactivate and then reactivate your account after some time, You just have to drop a mail to this address "[email protected]". You must specify in the mail that you are just taking a break and will come back.
Is Depop Safe to Use?
Depop is a very secure company, depop makes it easy for sellers and buyers to communicate with each other even during transactions. In short, Security is very tight even if we talk about transactions. You can easily trust depop and their services.
how to delete items on depop, how to delete a depop account, depop delete account, how to delete depop, how to deactivate depop, close depop account,
how do i delete my depop account,how to delete your depop account,delete my depop account,depop create account,create depop account,create a depop account,delete depop account,delete depop account, delete depop account,
how to delete depop account,how to delete a depop account,how to delete items on depop,how to delete depop,depop delete account,how to delete my depop account,how to delete your depop account,delete depop,how to make a depop account,how to make a new depop account,create depop account,
delete depop account, delete depop account, delete depop account, delete depop account, delete depop account, delete depop account, delete depop account, delete depop account, delete depop account, delete depop account, delete depop account, delete depop account, delete depop account, delete depop account, delete depop account, delete depop account,